Beautiful Vietnam tours to Halong bay
Halong bay is a must-see destination for all Vietnam tours which is the most famous world heritage site in Vietnam. Its name means the bay of descending dragon with more than 1600 islands and islets jutting out from the sea and forming a spectacular seascape of limestone pillars. Your Vietnam holiday to Halong bay will be memorable with amazing boat trip around the bay, visiting the majestic caves insides the islands featured marvelous stalagmites and stalactites in different sizes and shapes.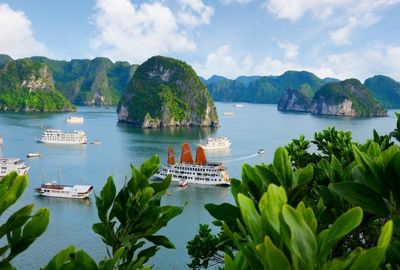 There are some different options of cruise trips on the bay for your Vietnam tours including day-trip, 2 days 1 night, 3 days 2 nights. Your Vietnam tour to Halong bay will be best with at least one night on board as you can enjoy the bay in different times of sunset and sunrise.
When visiting to Halong bay, your Vietnam vacation should include the exciting activity of kayaking around the islands as the sea is very calm and safe. Moreover, you will be prepared life jackets and good kayaks which are in good quality. In the evening, it is worth to try fishing under the direction of cruise staves.
About overnight cruises on the bay, they are diversified in size, designation, marine route… which will surely meet all of your demands. If you are honeymoon couple or family, you can find the cruises of 01 – 03 cabins for your Vietnam tours to Halong bay. Or if you are a big party and need private space, you can find charter cruise with equivalent number of cabin. Other suggestion which will be good to choose a good cruise for your Vietnam tours is that some cruises offer different marine routes to un-touristic such as Indochina Junk, Paloma Cruise, Au Co Cruise…
Best months for your Vietnam tour to Halong bay are from Oct to Apr with lowest rainfall. However, it is very cold on Jan & Feb with fog appearing sometimes. From May to Sep, they are summer with average temperature of 30 degree C which is very suitable for swimming on the bay. Even they will be rainy season, but we can hope to get good weather with blue sky, beautiful sunrise and sunset.
Contact us at This email address is being protected from spambots. You need JavaScript enabled to view it. to get cheap visa to travel Halong.
Related news items: