Imposing Ke Ga Lighthouse
We chose Ke Ga Lighthouse as the first stop in our recent trip from Sai Gon to the central region and were impressed by its imposing beauty though we had heard much of the site in the south-central province of Binh Thuan.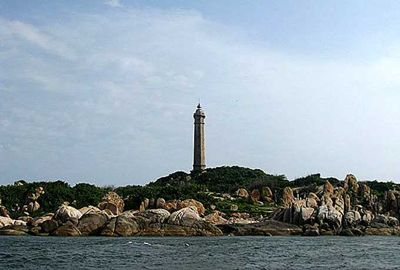 The lighthouse area is located on an islet in Ke Ga Cape in Tan Thanh Commune, Ham Thuan Nam District, and 180 kilometers away from Sai Gon. We were not able to perceive how the structure is attractive until when we saw it with our own eyes.
The islet on which the lighthouse stands is the right choice for nature lovers. The islet is not far the shore, people can even swim to it when tides are low. Motor boat service is available for visitors to reach the lighthouse with fares averaging VND100,000 (US$4.45) per passenger or lower depending on how well passengers can bargain.
The brown yellow boulders at the beach where we got on a boat for a trip to the lighthouse were so beautiful that they stole our hearts away when we saw them at first sight.
It takes us around five minutes to travel by boat from the shore to the lighthouse site. From afar, we saw the lighthouse standing out in the blue sky. Lying around the lighthouse are beautiful natural granite boulders of different shapes, which turn into natural wonders in the late afternoon sunlight.
"My goodness, what an astonishing site", my friend shouted when seeing the boulders and being greeted by numerous small crabs on the way to the lighthouse.
Work started on the lighthouse in 1897 under the design of French architect named Chnavat. The 35-meter-tall stone structure was finished in 1899 and has since been standing firm as a masterpiece of architecture.
The path leading to the lighthouse is lined with old plumeria trees. A spiral 183-step staircase leads up to the lighthouse.
Previously, visitors were allowed to go inside the lighthouse but the structure is now temporarily closed to visitors in preparation for restoration due to some damage.
The best times to visit the lighthouse is in the early morning or the late afternoon when tourists can enjoy spectacular views of the sunrise in the east and the sunset in the west.
Although many tourist sites have gone up near the lighthouse but Ke Ga Cape remains serene and the old structure is still kept intact.
To get Visa to Vietnam, feel free to contact us at This email address is being protected from spambots. You need JavaScript enabled to view it..
Related news items: