Oktoberfest comes back next month
The German Business Association in Vietnam and Windsor Plaza Hotel will host Oktoberfest Vietnam this year from October 8 to 10 and from October 14 to 17 at the hotel, Windsor Plaza Hotel announced in a statement.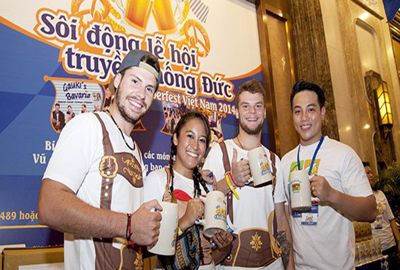 Taking its roots from the original Oktoberfest held in the Bavarian region of Munich, Germany since the 19th century, Oktoberfest Vietnam has become an annual event to celebrate the introduction of German culture and partnership to Vietnam. The event recreates the authentic atmosphere found in the massive beer halls of the original Oktoberfest, complete with German cuisine, imported German beer, and traditional Bavarian music.
The event this year will feature performances of An Ton Show Band, a traditional Oktoberfest band which has played concerts worldwide.
Attendees are promised to witness and enjoy the festivities from the rituals of opening a barrel of beer to wearing traditional costumes, dancing to foot-stomping music, authentic German cuisine such as sausages, sauerkraut, sauerbraten and pretzels, overflowing beer, aside from games and raffles.
In Vietnam, the Windsor Plaza Hotel and the German Business Association have been hosting Oktoberfest since 2005. Oktoberfest Vietnam was recognized by Reuters as one of the Top 10 Oktoberfest celebrations outside Germany, and was also featured in the Chicago Tribune magazine.
Ticket costs VND1 million (US$44.5) per person on Wednesday and Thursday and VND1.3 million on Friday and Saturday. Those interested can buy tickets online at www.oktoberfestvietnam.com or call the hotline at 0908 477 489.
Early bird bookings will enjoy a 35% discount until Friday. Windsor Plaza is located at 18 An Duong Vuong Street, District 5.
Contact us at This email address is being protected from spambots. You need JavaScript enabled to view it. to get cheap visa to Vietnam to attend Oktoberfest at Windsor Plaza.
Related news items: