The most beautiful tourist sites in Ninh Binh
Ninh Binh is located on the red river delta, it is 90km away from Hanoi, over 1,400km2 of natural area. Ninh Binh has forests, sea and a diverse system of fauna and flora. It is also endowed with many places of particular interest which have been well-known inside and outside Vietnam such as Tam Coc – Bich Dong, Cuc Phuong National Park, Trang An Grottoes and Van Long Nature Reserves. There are also many historical relics, for instances Hoa Lu Ancient Capital, Bich Dong Pagoda, Thai Vi Temple, Phat Diem Stone Cathedral, Tam Diep Defense Line.... All of them are attractive to both Vietnamese and foreign tourists. Ninh Binh is the charming land of myth and unique landscapes.Ưe suggest you the most beautiful tourist sides as below:
We suggest you the most beautiful tourist sides as below:
1. Hoa Lu ancient capital
Hoa Lu was the first capital of Vietnam in the 10th, 11th century, travel to Hoa Lu, travelers will more understand about political and cultural center of Dai Co Viet, an independent Vietnamese polity founded in 968 A.D. by the local warlord Dinh Bo Linh.
Hoa Lu was the native land of the first two imperial dynasties of Vietnam: Dinh and Le dynasties, then after that it was transferred to Thang Long (Now is Hanoi) by Ly Dynasty and Hoa Lu became known as the ancient capital.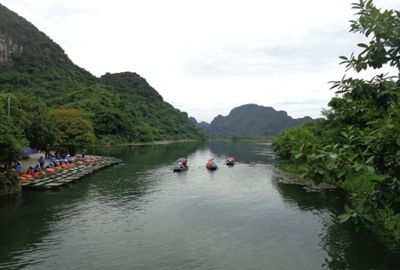 2. Van Long nature reserves.
Van Long is not only a natural reserve of wetlands but also the cultural relics. Travel to Van Long natural reserves, tourists will have a chance to take a boat trip to visit Van Long with spectacular mountain ranges creates a natural wall surrounded a vast expanse of water. Visit Van Long, travelers also have an opportunity to discover the beautiful grottoes such as Ca Grotto, Bong Grotto, Rua Grotto, Chanh Grotto, each grotto has an unique beauty.
3. Tam Coc
Tam Coc is the most popular destination to visit in Vietnam classic holidays. Tam Coc which means 3 caves, is a zone of Vietnam that elapses between rice paddies, bathed by the Ngo Dong River punctuated by karstic rock formations and limestone caves. Trave to Tam Coc, tourist have chance to take the boat from Ngo Dong river where in addition to the impressive landscape we can also contemplate the rice fields, go through caves, visit pagodas and remains of monuments and buildings of times of the Vietnam's legend.
4. Trang An Eco tourism
Covering almost 2000 hectares, Trang An eco-tourism is gathering of 31 valleys, 50 cross-water caves, and home to 600 kinds of flora and over 200 kinds of fauna, many of them in the Red Book of Vietnam. Travel to Trang An, tourists will be amazed by neglected area while having boat trip through cave chains: Sang Cave, Toi Cave, Ba Giot Cave, Sinh Cave…experiencing mysterious views of the so-called "Halong Bay in land"
5. Natural Thung Nham Eco tourist side
12km from Ninh Binh city, Thung Nham eco tourism is one of the most beautiful tourist sides in Ninh Binh fully converging factors of culture, spirituality, landscapes and biodiversity. This is one of the new tourist sites in Ninh Binh city gradually attracting the attention of numerous tourists. Especially, for those who love the nature and adventurous bird watching trip, Thung Nham is the best place for your experience.
Contact us at This email address is being protected from spambots. You need JavaScript enabled to view it. to get visa to travel Vietnam.
Related news items: