Mid-autumn festival in Vietnam
Mid-autumn Festival is one of the the most important festivals. While Tet (New Year) is still the mother of all Vietnamese holidays, the Mid-Autumn Festival is second in popularity, a colorful, exciting festival for children. It is held on the 15th day of the 8th lunar month.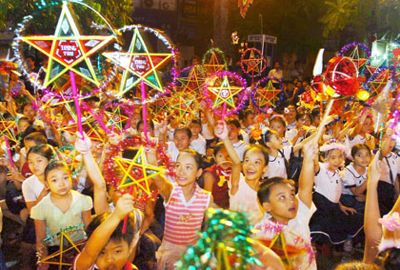 The Mid-Autumn Festival is also called the Children's Festival. There are many interesting stories explaining the origin of the festival. But the Mid-Autumn Festival is the time for family to have a reunion dinner, sit together and enjoy a warm cup of green tea with a sweet piece of moon cake while the children play with lanterns. In Vietnam, there are many traditional activities for both adults and children during the festival including a Lion Dance performed by both trained professional groups and amateurs.
Moon cakes are generally eaten during the Mid-Autumn Festival and are a traditional dessert. The festival typically involves family's getting together to share moon cakes while watching the moon together. Moon cake is made by sticky rice and in an array of flavors, mooncakes are one of the most iconic – and delicious – elements of mid-Autumn Festival. These heavy cakes are both a mid-Autumn delicacy and a popular gift during the season and when it comes to souvenirs and gifts for family.
In the weeks leading up to the festival, Hanoi's streets, especially those of the Old Quarter, are filled with moon cakes, lanterns, small drums, lion heads and toys.
Contact us at This email address is being protected from spambots. You need JavaScript enabled to view it. to get Vietnam visa on arrival.
Related news items: