Immense sand dunes in Ninh Thuan
About eight kilometers southeast of Phan Rang-Thap Cham City, Ninh Thuan Province, the Nam Cuong sand dunes totaling 700 hectares are a must-see place for vistors.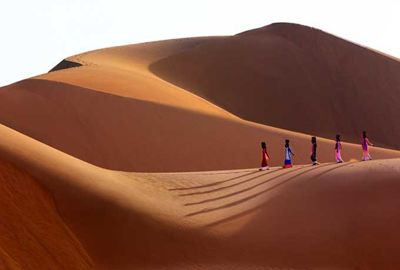 The sand dunes are situated in a special location that meets the East Sea on one side and the mountain on the other side, and is near a peaceful village.
Setting feet on the dunes, we had an unforgettable experience of walking and running on the sand.
At some places, we saw high dunes and elsewhere there were layers like terraced rice fields. Sand on the dunes is as soft as silk.
Those who want to visit Nam Cuong sand dunes should come early in the morning or in the evening to escape sunburns in what is described as the driest province in the country. Visitors may see the beautiful image of young Cham women walking on the sand dunes with jars of water on the head.
Another interesting thing about Nam Cuong is that its shape changes every day due to winds, so visitors can capture different views of the dunes in each repeat visit.
Contact us at This email address is being protected from spambots. You need JavaScript enabled to view it. to get cheap visa to travel Vietnam.
Related news items: