Cool climate at Bach Ma National Park
Bach Ma National Park is considered one of the mountainous areas known for the most comfortable atmosphere in Indochina.
At 1,450 meters above sea level, Bach Ma Mountain in the central province of Thua Thien-Hue is a familiar destination for trekking and relaxing.
For a one-day tour of Bach Ma, tourists should start from Thua Thien-Hue Province early in the morning so that they can stop by all must-visit destinations along the way.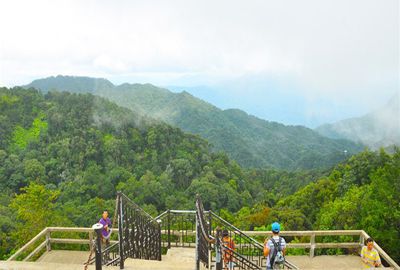 The first destination of the trip to Bach Ma National Park is Vong Hai Tower on the peak of Bach Ma Mountain. From the tower, visitors can have a bird's eye view of Hai Van Pass, Tuy Van Mountain, Cau Hai Lagoon, Tu Hien Estuary and Chan May Bay.
The next attraction that should not be missed is Do Quyen Waterfall measuring 200 meters in height. If coming to the site in March, tourists will have the opportunity to see azalea flowers blooming and dyeing the two sides of the stream down the waterfall in light red. The trail leading to Ngu Ho (five lakes) is an ideal section for trekking thanks to the shade trees on the two sides.
The five lakes with crystal clear water lying close together turn out to be a perfect spot for tourists to rest after a long walk. Flower lovers can also visit an orchid garden with hundreds of orchid species of different unique shapes and colors.
In the early 20th century, Bach Ma National Park was developed by the French as one of the biggest resorts in Vietnam with 139 villas, market, bank, post office, swimming pools, tennis court and a 19-km road connecting National Highway 1A with the park's center. Therefore, tourists can see old villas around the park.
Apart from its cool atmosphere, unspoiled trails and imposingly beautiful scenes, Bach Ma National Park has diverse fauna and flora with 1,406 plant species and 931 animal species. Especially, the park is home to several rare and endangered bird species such as crested argus and Edwards's pheasant.
Tourists should travel around 40km along National Highway 1A to Cau Hai Town in Phu Loc District before turning right and going straight ahead for 19km before they get to Bach Ma National Park.
Contact us at This email address is being protected from spambots. You need JavaScript enabled to view it. to get Vietnam visa on arrival and discovery many beautiful places of Vietnam.
Related news items: