Tourists say visa waiver too short
The Government's new Vietnam visa exemption policy for travellers from five European countries could boost tourism better if it was for longer than 15 days, tour operators and visitors have said.
The Government has applied the waiver for visitors from Britain, Italy, Germany, Spain and France for one year period starting from July 1 this year.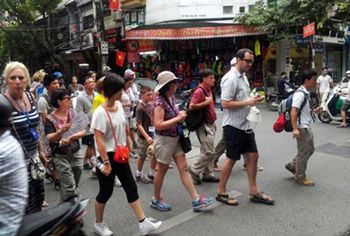 After the decision became effective, international tourists increased by 12.1 per cent in July and an additional 12 per cent in August, according to statistics from the Vietnam National Administration of Tourism (VNAT).
The decision was seen as a way of improving tourism after 13 consecutive months of decline. In June, visitors from France and Germany fell by 50 per cent and 30 per cent respectively compared with the previous month.
However, the 15-day limit for travel has puzzled tourists from the five long-distance European countries. They say a complete Vietnam tour should be around 20 to 30 days to take in the main sights in Vietnam.
At present, those who want to stay longer have to pay $45 for a Vietnam visa application, the same amount as if would pay before the new system was introduced.
Tourism insiders suggest more flexible measures be adopted, such as extending the visa waiver time limit to 30 days or decreasing the Vietnam visa application fee for visitors who take longer tours.
The Government has waived visas for holders of passports from 22 countries, including the four Nordic countries, five European countries, the Russian Federation, Belarus, Republic of Korea, Japan and nine ASEAN countries.
Feel free to contact us at This email address is being protected from spambots. You need JavaScript enabled to view it. to get cheap visa to travel Vietnam.
Related news items: