Yellow paddy fields in Thanh Hoa
Although they are not as stunning as the terraced rice fields in Mu Cang Chai, Hoang Su Phi and Sa Pa in the northern upland, the rice fields in the north-central province of Thanh Hoa still have their own hidden charms.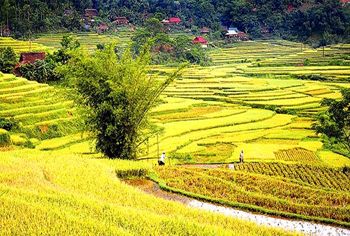 Visitors still discover the charm of the fields in the mountainous district of Ba Thuoc in Thanh Hoa. Due to the rough roads leading to Ba Thuoc, which are mostly trodden paths, this locality is little known.
Early in the morning, clouds hang above the mountains and rice fields which turn into the shining yellow color, creating a picturesque painting complete with smoke rising from small stilt houses. Visitors certainly have a feel of peace and tranquility in a cool climate.
To get Vietnam visa authorization letter please contact us at This email address is being protected from spambots. You need JavaScript enabled to view it..
Related news items: