Asian kite surfing championships end in Ninh Thuan
The first round of Kiteboard Tour Asia 2016 was held in the central coastal province of Ninh Thuan from February 25 to 28.
The event, the first of its kind in Ninh Thuan, saw tough competition among 73 athletes from 25 countries and territories.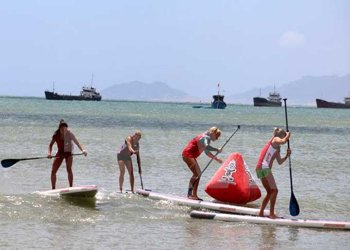 At the closing ceremony held on February 28, the organising board handed over medals to winners in the categories of twin-tip, freestyle and stand-up-paddle-board racing, and wave performance.
Vietnamese competitor Lai Hoang Phu won a gold medal in the freestyle racing category.
The tour's second round will be held in Thailand next month, and the third round will be in China in April.
Contact us at This email address is being protected from spambots. You need JavaScript enabled to view it. to get cheapest visa to Vietnam.
Related news items: