Water puppets attend Hanoi Days in Japan
Thang Long Water Puppet Theatre will take part in "The Hanoi Days" in Fukuoka Prefecture, Japan late this August.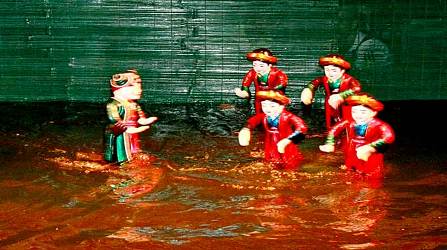 The Vietnamese water puppeteers will perform seven shows on August 25-27.
The event is expected to be a good chance for the theatre to introduce a special kind of art of Vietnam to Japanese people, and strengthen mutual understanding between the two countries, said the organizing board.
Apart from water puppet performances, Vietnamese and Japanese artists will co-perform folk songs and musical instruments.
"The Hanoi Days" will be held in Fukuoka Prefecture, Japan on August 22-28.
Water puppetry is a tradition that dates back as far as the 11th century when it originated in the villages of the Red River Delta in northern Vietnam. Today's Vietnamese water puppetry is a unique variation of the ancient Asian puppet tradition.
The puppets are made of wood and then lacquered. The shows are performed in a waist-deep pool. A large rod supports the puppet under the water and is used by the puppeteers, who are normally hidden behind a screen, to control them.
Thus the puppets appear to be moving over the water. When the rice fields were flooded, villagers would entertain each other using this form of puppet play.
With Japanese to get Vietnam visa more 15 days, please click this link to apply Vietnam visa online: http://www.cheapvietnamvisaonline.com/apply-vietnam-visa
Related news items: