Nam cake - a traditional cake
Nam cake (steamed shrimp rice cake) is made of rice flour, shrimp, wrapped in phrynium leaves and served with fish sauce. The cooking procedure seems simple but actually requires a great deal of time and effort from the cake maker from choosing the shrimp to preparing the fish sauce.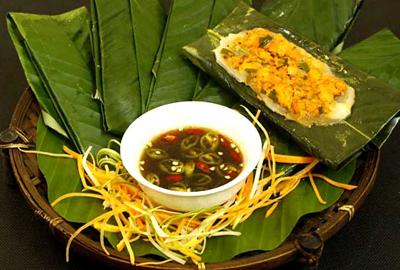 Fresh shrimp must be soaked for several hours until soft and then grounded finely in a blender.
The grounded shrimp, after adding salt, sugar and fish sauce, is stir-fried until dry and once it has achieved a sweet and salty taste.
The rice batter, made of rice flour, should be smooth and soft.
Next, the fried shrimp is spread on top of the rice batter, and then is wrapped into a rectangular shape and steamed for about 15 minutes. After which it is time to remove the cover and smell the elegant scent of the phrynium leaves.
The shrimp should be crispy, a little greasy, sweet and salty, so that most people are inclined to savor the taste gradually, if it is mixed well with the rice batter it should taste great on its own but will be even better with the sweet and spicy fish sauce.
Contact us at This email address is being protected from spambots. You need JavaScript enabled to view it. to get Vietnam visa on arrival with cheap price and fast service.
Related news items: