5 Best Places For Your Vietnam Honeymoon Holiday
The honeymoon is an especially sweet period for newlyweds. Here are 5 popular destinations for Vietnam honeymoon vacations:
1. Hoi An
If you are a nostalgic person, you should choose Hoi An for your trip. Hoi An is famous for the ancient houses. Hoi An is extremely suitable for Vietnam honeymoon tour. The river flow across the ancient town and the sparkling lights at night is a bonus to the romance. If would like to relax on the beach, you can go to Cua Dai or An Bang beach, about 4-5km from Hoi An ancient town with blue waters, and white sandy beach.
2. Phu Quoc
Phu Quoc is a place no stranger to international tourists. To have a sweet and romantic honeymoon, Phu Quoc is still one of the best choice. Phu Quoc famous for beautiful beaches and many exciting activities on the beach such as snorkeling, fishing, and night squid fishing. After long day for sightseeing do activities on the beach delight island, the couple have a. candlelight dinner on the beach next to the lapping waves.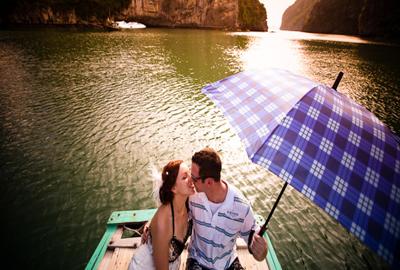 3. Sapa
Sapa has four season in one day. Come to Sapa, not only to enjoy the fresh air but sometimes you can explore the life of ethnic people in villages around Sapa and the colours market of ethnic minorities. Your honeymoon will become more and more romantic when you stay at Topas Ecolodge is far away from the town center about 12 km which can give honeymooners a perfect look at the ethic minority of Ho villages and other marvelous scene beneath
4. Halong Bay
The strength of Halong Bay is not the beach, but the experience on Halong Bay Cruise that would make your honeymoon is more interesting. Watching the sunrise over the bay or have dinner with your partner on the boat, certainly this will be a sweet and memorable honeymoon.
5. Nha Trang
Coming to Nha Trang , you can enjoy the sunlight on the beach with white sand and blue water. Besides Nha Trang has Van Phong Bay, Ninh Van Bay Hon Ong and Hon Ba Island, The honeymoon couples should not be ignored these places. In particular, about 60 km from Nha Trang, Ninh Van Bay can be regarded as a natural wonder with beautiful beaches, white sandy and the water is very clear can see the bottom of the rapids rocky, its create a private space and truly mingle with nature.
Contact us This email address is being protected from spambots. You need JavaScript enabled to view it. to get cheap Vietnam visa and have a nice honeymoon vacation in Vietnam.
Related news items: