Four seasons in Sapa
Sapa is one of best places to see in Vietnam, where four seasons are differentiated clearly. Each season is usually symbolized by distinct and original products. Whatever season is Sapa in, this land always has its rare and distinct beauty. People who have fallen in love with Sapa said that even in each day, Sapa also has its different feature from the previous day.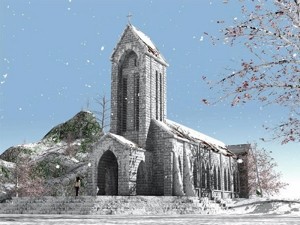 Spring
Sapa is most beautiful in spring. Apricot, plum and cherry flowers are splendidly beautiful. Markets are crowded and merry, and are especially attractive to visitors.
Summer
Travel to Sapa in summer, visitors can feel the climate of four seasons in one day. In the morning and afternoon, it is cool like the weather of spring and autumn. At noon, it is as sunny and cloudless as the weather of summer. And it is cold in the evening. Summer is the season of romantic flowers, and also the season in which cherry, pear and plum trees produce fruits.
Autumn
In the autumn in Sapa, terraced fields have a beautiful yellow flower and precious medicinal plants like "tam that" (a kind of bulbous aralia), amomum, anise, and goldthread enter their season. Especially, the scenery of sunlight and cloud covering the hills and trees makes Sapa more attractive to travelers.
Winter
Sapa weather will be pretty cold, wet, drizzle and foggy (sometimes nearly freezing). Travelers have rolled into town on a glorious clear day and proceeded to spend a week trapped in impenetrable fog. In winter, bring along warm clothes or prepare to be cold and miserable, as many hotels do not have especially efficient heating in their rooms.
Please contact us at This email address is being protected from spambots. You need JavaScript enabled to view it. to get cheap visa to travel Sapa.
Related news items: