How to apply for Vietnam visa on arrival?
Most travellers to Vietnam need a visa to enter the country, but Vietnamese government warmly welcome all travelers to Vietnam on business or holidays, so getting a Vietnam visa is now simpler and easier than ever before. Besides applying for visa to Vietnam at Vietnam Embassy, international travelers now can enjoy a much more convenient way to get Vietnam visa which is applying for Vietnam visa online.
With this option, applicants will receive "Vietnam Visa authorization letter" via email and get Vietnam visa stamped on their passports at any Vietnam airport upon arrival (including Noi Bai International Airport in Hanoi, Tan Son Nhat International Airport in Ho Chi Minh City and Da Nang International Airport in Da Nang City).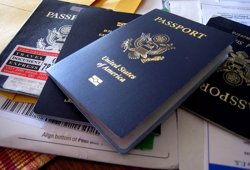 How to apply for Vietnam visa on arrival?
1. Access the Apply Online page of www.cheapvietnamvisaonline.com and fill in the online Vietnam visa Application form

2. Make payment of service fee.

3. Receive Visa approval letter attached with an Entry and Exit Form (after 2 working days for normal service or 1 working day for urgent service) from our system through email, then print them out

4. Now get on your flight and get Vietnam visa stamped at Vietnam airports upon arrival

How much is a Vietnam Visa on arrival?
There are two types of fees when applying for Vietnam Visa on arrival.

1. The first one is the service fee (fee for processing Vietnam Visa authorization letter). This fee is paid directly to the agent for doing all the paperwork for you to submit your visa application to the Vietnam Immigration Department for processing their visa approval letters.

2. The second is stamping fee which you pay directly to Immigration Officers in cash (in USD or VND) (at Immigration Desk/Counter) at your arrival airport in Vietnam to have visa stamped onto your passport. The fee is collected by the Immigration Officers and compulsory for all those who use visa on arrival method. It is: 45 USD for 1 month or 3 month single entry visa, 65 USD for 1 month multiple entry visa and 95 USD for 3 month multiple entry visa

Notices when applying for Vietnam Visa On Arrival?
- With Vietnam visa on arrival, travelers to Vietnam will get their Vietnam visa stamped at the Vietnam Airport. Thus, it is applicable to air travelers only, not land or sea travelers.

- No original passport sending is required when applying for Vietnam Visa On arrival, so applicants should make sure that all the information filled in the Vietnam Visa On Arrival application form is correct. Once the Visa approval letter is issued, no amendment can be made. And if you wish to make any change, you must apply for a new one
Related news items: