Steps to get Vietnam Visa on Arrival
The differences between getting Vietnam Visa on arrival and getting visa at Vietnam embassies
It is only applicable for those who travel to Vietnam by air.
You only need fill out the visa application form online instead of visiting the Vietnam embassies or sending documents to Embassies over by post.
The online visa application does not require sending your passport away.
You get a visa approval letter issued by Vietnam Immigration Department indicating that you are allowed to enter Vietnam and have your visa stamped upon arrival at one of Vietnam international airports.
Visit our visa on arrival service vs. visa at embassy for detailed comparison.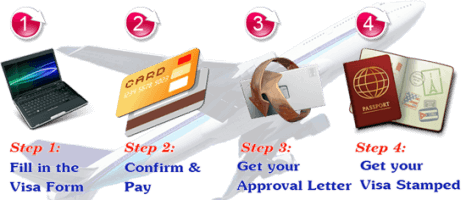 4 STEPS TO GET VIETNAM VISA ON ARRIVAL
1. Fill out the secure online application form
You are required to enter the exact personal information of the applicant(s). 
2. Confirm and pay for service fee
Please double check to ensure the information is correct, select to use extra services (Airport Fast Track/Car Pick-Up) if any.
You can make payment with your Credit/ Debit Card via PayPal or pay via Western Union.

3. Get approval letter and prepare for getting visa stamped on arrival
After 1 working day (urgent service) or 2 working days (normal one), YOU WILL:
Get visa approval letter via email (attached with entry and exit form)
Print out the letter and the entry and exit form
Fill out the entry and exit form
Prepare 2 passport sized photos and an amount of USD for stamping fee ($45 for single entry visa; $65 for 1 month multiple entry visa and $95 for 3 multiple entry visa)
Put all above mentioned things along with your passport in a package, then show them to Immigration officer at Vietnam arrival airports
 4. Get your visa stamped upon arrival
Upon arrival to Vietnam International Airports (Hanoi, Da Nang or Hochiminh), you present all things in the prepared package (passport, visa approval letter, 2 passport sized photos, the exit and entry form and stamping fee) to the Immigration officer to get your visa stamped.
Photo Guidelines
Photographs are required at Vietnam airports only and you do not need to provide them during the online application process. The photographs need to be taken in the format specified below.  
Photographs must:
- be a recent true likeness of the individual, taken within the last 6 months
- in colour, not black and white
- taken against a light grey or cream background 40 millimetres (mm) width x 60 mm height (4cm*6cm)
- be free from shadows
- be printed professionally or taken in a passport photo booth.
 
Note: In emergency cases, photos can be taken at Vietnam airport for 2 USD/each
Related news items: