Discovery Dai Lai Lake
From Hanoi's centre, along to Bac Thang Long – Noi Bai Road, then turn to National Highway No.2 about 10km to Phuc Yen Town (Vinh Phuc Province), and turn right to Provincial Road No.317 about 12km, visitors will arrive in Dai Lai Lake Tourist Area located in communes of Ngoc Thanh and Cao Minh. This is an ideal weekend destination for visitors.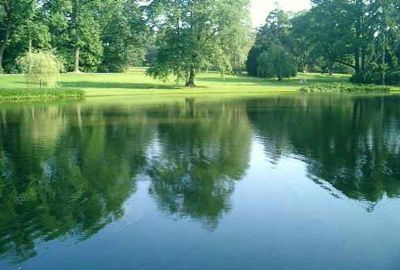 Dai Lai is bestowed charming scenery of mountain and water by the Creator. To the north of the lake is Tam Dao Mountain Range with untouched green forests. The hillocks closing to mountain slopes are extended by soil dams to create a solid wall for maintaining water of the lake. The harmonious combination between lake and mountains creates a vivid natural picture.
Dai Lai Lake Tourist Area has a mild and cool climate thanks to existence of Tam Dao Mountain Range and mountains of Cot Co, Mo Qua, Than Lan… Here, the average temperature in summer of about 28.9°C and in winter of approximately 16.8°C are ideal condition for leisure and relaxation at the weekends.
After sightseeing Dai Lai Lake, visitors take only 3 minutes by canoe or 10 minutes by boat to visit Ngoc (Pearl) Island in the middle of the lake. Especially, visitors can also choose duck-shaped pedalo to relax and discover many fascinating landscapes around the lake. Ngoc Island was formerly known as Bird Island because it was home to hundreds of bird species. Currently, the island is being planned into a resort area with many diversified architectural works and attractive tourism services such as camping, kid's play ground, restaurant, karaoke... Coming here, visitors will have the opportunity to be immersed in the fresh space of pine tree ranges, bamboo trees, artificial lakes, green grass and a lot of blooming flowers. Besides, visitors can sightsee Linh Thong Pagoda in the island to enjoy the pure spiritual space.
In recent years, tourism infrastructure in Dai Lai has continuously improved to serve visitors. Many 1-3 star hotels was built with convenience equipments and reasonable service prices. For high-class services, visitors can choose Flamingo Dai Lai Resort or Dai Lai Paradise Resort with luxurious villas, restaurants with modern architecture and diversified entertainment services. Coming to Dai Lai Lake Tourist Area, visitors also have the opportunity to enjoy many delicious dishes of the mountainous region such as bamboo-tube rice, mountainous pork, fried small fish, grilled chicken...
Departing from Dai Lai Lake, visitors can visit some adjacent tourist sites in Vinh Phuc Province such as Doi Cave (Ngoc Thanh Commune, Phuc Yen Town), Tam Dao Mountain (Tam Dao Townlet, Tam Dao District), Truc Lam Tay Thien Zen Monastery (Dai Dinh Commune, Tam Dao District)…
Contact us at This email address is being protected from spambots. You need JavaScript enabled to view it. to get cheap visa to travel Vietnam.
Related news items: