Quang Tri Travel Guide
Quang Tri is located in Central Vietnam near the crossways between North and South Vietnam, Laos, and Thailand. Several different minorities populate in this province (Kinh, Bru-Van Kieu). Famous sites in Quang Tri include Quang Tri Citadel and the holy land of La Vang. Violent battles took place in Quang Tri during the war against the Americans; such battles have left revolutionary vestiges such as Hien Luong Bridge, Tung Gate, and Vinh Moc underground tunnels.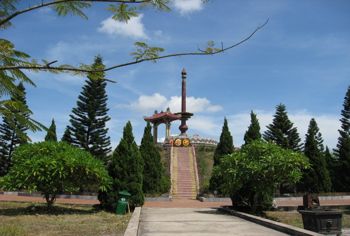 Quang Tri is a province in the North Central Coast of Vietnam. Like Dien Bien province, Quang Tri is also a historical land by passing vicissitudes in the past. Nowadays, Quang Tri is gradually becoming a tourist destination in the Central Vietnam. With an area of 4745.7 km2, Quang Tri is the home of more than 616,000 people of various ethnic minorities like Van Kieu, Chinese, Ta Oi…
About geography, the highlands, characterized by steep slopes, sharp crests, and narrow valleys, are covered mainly by a dense broadleaf evergreen forest. Most of the peaks are from 4,000 feet (1,200 m) to 7,000 feet (2,100 m) high, but some rise above 8,000 feet (2,400 m). The narrow coastal plains flanking the highlands on the east have rocky headlands and consist of belts of sand dunes and, in areas where the soil is suitable, rice fields. From the crests that mark the drainage divide in the highlands, streams flow either east towards the South China Sea or west into Laos or Cambodia. Those flowing eastward follow short courses through deep narrow valleys over rocky bottoms until they reach the coastal plains, where they slow down and disperse. The westward flowing streams follow longer traces, sometimes through deep canyons which are subject to seasonal flooding. The weather features a wide range of temperatures and rainfall, with hot and dry south-west winds during the Southwest Monsoon (May through September), and much cooler wet weather during the rainy season (November to mid-March). Annual average temperature is 24 °C, but temperatures can drop as low as 7 °C during the rainy season.
About the tourist destination, Quang Tri boasts many historical relics and monuments as well as beautiful landscapes. Some prominent sites that you can't miss are Ben Hai River, Hien Luong Bridge, Truong Son Cemetery, Military Barrack of Khe Sanh, Con Co Island, Vinh Moc Tunnel, Ancient Citadel of Quang Tri and Cua Tung Beach…
Apply Vietnam Visa now with us to travel Vietnam and discovery Quang Tri province.