Lush, green cajuput forest in Tra Su
Taking a boat tour of Tra Su cajuput forest in Van Giao commune, Tinh Bien district, An Giang province, travellers will find themselves disappear in the lush green colour of the cajuputs rising above the water hyacinths. The deeper the visitors travel into the forest, the quieter it gets. All that can be heard are the clapping of the oars and the chirps of thousands of storks nesting on the cajuput trees.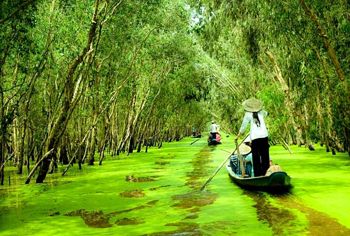 Planted in 1981 and opened to tourism in 2005, Tra Su cajuput forest covers an area of 845ha. Coming to the forest, visitors can experience a vast expanse of water and the beauty of the woodland. The best time to explore Tra Su cajuput forest is between August and October in the lunar calendar (between September and November in the solar calendar).
Contact us at This email address is being protected from spambots. You need JavaScript enabled to view it. to get cheap Vietnam visa on arrival.
Related news items: